Fellowships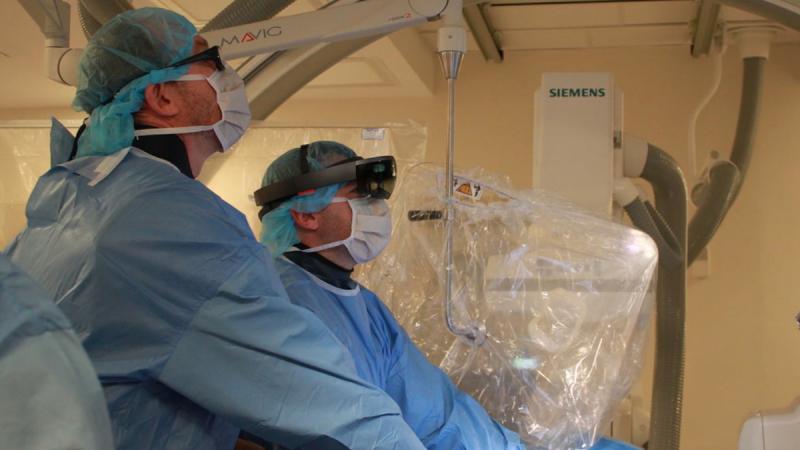 The Department of Neurosurgery is pleased to offer one- and two-year fellowship training programs.
Endovascular Neurosurgery/Interventional Neuroradiology Fellowship Program
The Endovascular Neurosurgery/Interventional Neuroradiology division at Columbia University Irving Medical Center offers a two-year fellowship position. Under the leadership of Dr. Sean Lavine, Director, and Dr. Grace Mandigo, Co-Director, of Endovascular Neurosurgery/Interventional Neuroradiology, the fellow candidate will participate in all aspects of diagnostic and interventional care of the neuroscience patient. The Fellowship Program is jointly sponsored by Columbia University Irving Medical Center's Departments of Neurosurgery and Radiology and received CAST Certification on May 31, 2017.
Applicants must have completed residency in Radiology and a Neuroradiology Fellowship, completed residency in Neurology and a Vascular Neurology Fellowship or have completed residency in Neurosurgery. Applicants must be able to obtain a NYS medical license and DEA license.
Interested candidates should submit the completed Fellowship Application Form to neurosurg_edu@cumc.columbia.edu. In addition to the application form, please submit the following:
Letter of Interest
(3) Letters of Recommendation
Current CV
3×5 photo (.jpg format)
The Interventional Neuroradiology/Endovascular Neurosugery division at Columbia University Irving Medical Center is currently interviewing for the fellowship positions: July 1, 2024 - ending June 30, 2025.
** Please note: We are not accepting applications for the Endovascular Surgery Fellowship Program for the following academic years: 2023-2024 and 2025-2026.**
Pediatric Neurosurgery Fellowship Program
Powered by the faculty of two ivy league medical schools, Columbia University and Weill Cornell Medicine, NewYork-Presbyterian's Pediatric Neurosurgery fellowship offers an unparalleled training opportunity. NewYork-Presbyterian Hospital is the largest regional pediatric neurosurgery service provider in the tristate area. Ranked amongst the top five hospitals in the nation, and boasting New York's #1 children's hospital, our program offers an incomparable training experience across a full range of conditions including brain and spinal cord tumors, epilepsy, hydrocephalus, craniosynostosis, vascular disorders, Chiari malformation and syringomyelia, spina bifida, and spasticity.
Working together across the pediatric neurosurgical clinical service, our Weill Cornell and Columbia surgeons play a central role in accelerating innovative therapeutic strategies, affording a fellow experience in such areas as fetal surgery for myelomeningocele, precision medicine and enhanced drug delivery for brain tumors, laser therapy and Stereo EEG for epilepsy, minimally invasive and endoscopic surgery for hydrocephalus, brain tumors and congenital cysts; gene therapy for congenital neurodevelopmental disorders and Virtual Surgical Planning (VSP) for complex craniosynostosis.
Led by Drs. Mark Souweidane and Neil Feldstein, the Pediatric Neurosurgery fellowship at NewYork-Presbyterian offers a robust clinical experience in the context of a rich educational environment. Our fellow will have the opportunity to participate in a suite of multidisciplinary educational conferences on several aspects of pediatric neurosurgical care. In addition to the NewYork-Presbyterian Hospital campuses, our pediatric neurosurgery team also serves patients at top-ranked specialty hospitals, Memorial Sloan Kettering Cancer Center and the Hospital for Special Surgery, which further enhances the fellowship experience.
The Pediatric Neurosurgery fellowship training program at NewYork-Presbyterian Hospital is certified by the Accreditation Council for Pediatric Neurosurgery Fellowships (ACPNF). The fellow is based at the two main hospital campuses, on the Upper East Side and Upper West Side of Manhattan and will be involved in patient care throughout their year of training. This includes participation in the outpatient clinic for consultations, pre- and post-operative evaluations, and follow-up patients. Inpatient activities include seeing inpatient consults and active involvement in the pre-operative, operative, post-operative, and non-operative management of pediatric neurosurgical patients. Supported by a team of four pediatric neurosurgeons, five APPs and residents from both Columbia and Weill Cornell Medicine, the fellow will also have time for research opportunities.
For additional information about the Pediatric Neurosurgery fellowship at NewYork-Presbyterian Hospital, Weill Cornell Medicine, and Columbia University, please contact us at pedsneurosurgeryfellowship@nyp.org.