Gabriele Bartoli Brain Tumor Lab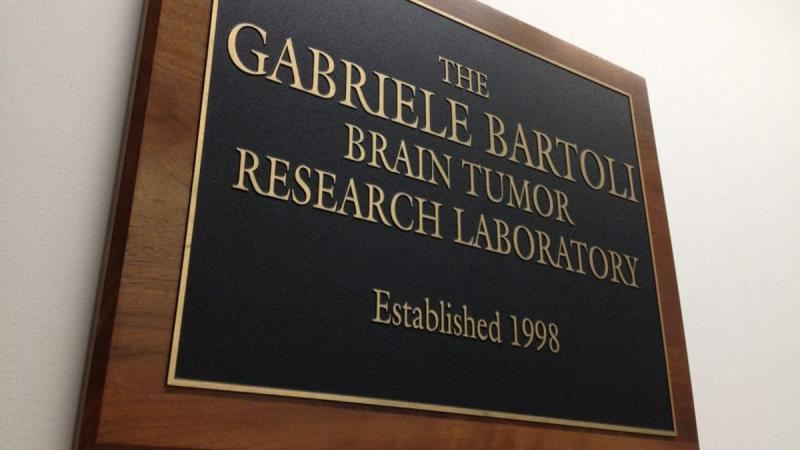 The Gabriele Bartoli Brain Tumor Laboratory is part of NewYork-Presbyterian Hospital/Columbia University Irving Medical Center and headed by Dr. Jeffrey Bruce and Dr. Peter Canoll. We are a multidisciplinary group of researchers and clinicians dedicated to the care of patients with brain tumors, primarily glioblastoma (GB), the most common and aggressive malignant primary brain tumor. Members of our lab include associate research scientists, postdoctoral fellows, graduate students, medical students, lab technicians, and neuroscientists from the Department of Neurological Surgery and neuropatholigists from the Department of Pathology and Cell Biology.
Our lab studies the cellular and molecular mechanisms of gliomagenesis, immune responses to brain tumors, and the development of therapies for brain tumor patients. In collaboration with the Herbert Irving Comprehensive Cancer Center (HICCC) at Columbia University Irving Medical Center, the Bartoli Brain Tumor Laboratory curates a repository of surgical specimens from brain tumor patients, including radiographically localized biopsies from tumor core and the surrounding infiltrated brain tissue. We have also generated a variety of genetically engineered mouse models that recapitulate the histological and molecular features of human glioma. We are using these resources, both in studies conducted in our laboratory and with our collaborators, to study basic mechanisms of disease and to explore novel approaches to treatment.
This laboratory was named in dedication to the gifted viola player Gabriele Bartoli, who died of brain cancer in 1997. Gabriele's sister, world-famous vocalist Cecilia Bartoli, who performed with him at various cancer research benefit concerts during his last months, dedicated these successful efforts to help fund brain tumor research in our Department of Neurological Surgery, leading to the opening and naming of this lab in November 1998.
Select Publications
Assanah M, Lockhead R, Ogden A, Bruce J, Goldman J, and Canoll P. Glial Progenitors in Adult White Matter Are Driven to Form Malignant Gliomas by PDGF Expressing Retroviruses. The Journal of Neuroscience 21, 2006, 26 (25) 6781-6790; DOI: https://doi.org/10.1523/JNEUROSCI.0514-06.2006

Beadle C, Assanah M, Monzo P, Vallee R, Rosenfeld S, and Canoll P. The Role of Myosin II in Glioma Invasion of the Brain. Molecular Biology of the Cell, 2008, 19:8, 3357-3368; DOI: https://doi.org/10.1091/mbc.e08-03-0319

Lei L, Sonabend A, Guarnieri P, Soderquist C, Ludwig T, Rosenfeld S, Bruce J, and Canoll P. Glioblastoma Models Reveal the Connection between Adult Glial Progenitors and the Proneural Phenotype. PLOS ONE, 2011. DOI: https://doi.org/10.1371/journal.pone.0020041

Sonabend A, Stuart R, Yun J, Yanagihara T, Mohajed H, Dashnaw S, Bruce S, Brown T, Romanov A, Sebastian M, Arias-Mendoza F, Bagiella E, Canoll P, and Bruce J. Prolonged Intracerebral convection-enhanced delivery of topotecan with a subcutaneous implantable infusion pump. Neuro-Oncology, 13:886-893, 2011 DOI: https://doi.org/10.1093/neuonc/nor051

Sonabend A, Yun J, Lei L, Leung R, Soderquist C, Crisman C, Gill B, Carminucci A, Sisti J, Castelli M, Sims P, Bruce J, and Canoll P. Murine cell line model of proneural glioma for evaluation of anti-tumor therapies. J Neurooncol. 2013 May;112(3):375-382. DOI: https://doi.org/10.1007/s11060-013-1082-x

Sonabend A, Bansal M, Guarnieri P, Lei L, Amendolara B, Soderquist C, Leung R, Yun J, Sisti J, Kennedy B, Bruce S, Bruce R, Shakya R, Ludwig T, Rosenfeld S, Sims P, Bruce J, Califano A, and Canoll P; The Transcriptional Regulatory Network of Proneural Glioma Determines the Genetic Alterations Selected During Tumor Progression. Cancer Research, 2014, 74(5), 1440-1451. DOI: https://doi.org/10.1158/0008-5472.CAN-13-2150

Gill B, Pisapia D, Malone H, Goldstein H, Lei L, Sonabend A, Yun J, Samanamud J, Sims J, Teich A, Sheth S, McKhann G, Sisti M, Bruce J, Sims P, and Canoll P. MRI-localized biopsies reveal subtype-specific differences in molecular and cellular composition at the margins of glioblastoma. PNAS, 2014, 111, 12550-12555. DOI: https://doi.org/10.1073/pnas.1405839111

Chang P, Malone H, Bowden S, Englander Z, Chow D, Gill B, Ung T, Samanamud J, Sonabend A, Sheth S, McKhann G, Sisti M, Schwartz L, Lignelli A, Grinband J, Bruce J, and Canoll P; A Multi-Parametric Model for Mapping Cellularity in Glioblastoma Using Radiographically Localized Biopsies American Journal of Neuroradiology, 2017, 890-898. DOI: https://doi.org/10.3174/ajnr.A5112

D'Amico R, Neira J, Yun J, Alexiades N, Banu M, Englander Z, Kennedy B, Ung T, Rothrock R, Romanov A, Guo X, Zhao B, Sonabend A, Canoll P, and Bruce J. Validation of an effective implantable pump-infusion system for chronic convection-enhanced delivery of intracerebral topotecan in a large animal model. J Neurosurg. 2019 Aug 2:1-10. DOI: https://doi.org/10.3171/2019.3.JNS1963. Epub ahead of print. PMID: 31374547; PMCID: PMC7227320.

Gill B, Wu X, Khan F, Sosunov A, Liou J, Dovas A, Eissa T, Banu M, Bateman L, McKhann G, Canoll P, and Schevon C. Ex vivo multi-electrode analysis reveals spatiotemporal dynamics of ictal behavior at the infiltrated margin of glioma. Neurobiol Dis. 2020 Feb;134:104676. doi: https://doi.org/10.1016/j.nbd.2019.104676. Epub 2019 Nov 12. PMID: 31731042; PMCID: PMC8147009.

Montgomery M, Kim S, Dovas A, Zhao H, Goldberg A, Xu W, Yagielski A, Cambareri M, Patel K, Mela A, Humala N, Thibodeaux D, Shaik M, Ma Y, Grinband J, Chow D, Schevon C, Canoll P, and Hillman E. Glioma-Induced Alterations in Neuronal Activity and Neurovascular Coupling during Disease Progression. Cell reports, 2020, 31(2), 107500. DOI: https://doi.org/10.1016/j.celrep.2020.03.064

Zhao W, Dovas A, Spinazzi E, Levitin H, Banu M, Upadhyayula P, Sudhakar T, Marie T, Otten M, Sisti M, Bruce J, Canoll P, and Sims P. Deconvolution of cell type-specific drug responses in human tumor tissue with single-cell RNA-seq. Genome Med 2021, 13:82. DOI: https://doi.org/10.1186/s13073-021-00894-y

Argenziano M, Furnari J, Miller M, Sun Y, Banu M, Neira J, Snuderl M, Bruce J, Welch M, McCormick P, and Canoll P. Thoracic low grade glial neoplasm with concurrent H3 K27M and PTPN11 mutations. Acta Neuropathologica Commun 2022, 10:64. DOI: https://doi.org/10.1186/s40478-022-01340-9

Gill B, Khan F, Goldberg A, Merricks E, Wu X, Sosunov A, Sudhakar T, Dovas A, Lado W, Michalak A, Teoh J, Liou J, Frankel W, McKhann G, Canoll P, and Schevon C. Single unit analysis and wide-field imaging reveal alterations in excitatory and inhibitory neurons in glioma. Brain 2022, 145:3666-80. https://doi.org/10.1093/brain/awac168

Spinazzi E, Argenziano M, Upadhyayula P, Banu M, Neira J, Higgins D, Wu P, Pereira B, Mahajan A, Humala N, Al-Dalahmah O, Zhao W, Save A, Gill B, Boyett D, Marie T, Furnari J, Sudhakar T, Stopka S, Regan M, Catania V, Good L, Zacharoulis S, Behl M, Petridis P, Jambawalikar S, Mintz A, Lignelli A, Agar N, Sims P, Welch M, Lassman A, Iwamoto F, D'Amico R, Grinband J, Canoll P, and Bruce J. Chronic convection-enhanced delivery of topotecan for patients with recurrent glioblastoma: a first-in-patient, single-centre, single-arm, phase 1b trial. Lancet Oncol 2022, 23:1409-18. DOI: https://doi.org/10.1016/S1470-2045(22)00599-X

Al-Dalahmah O, Argenziano M, Kannan A, Mahajan A, Furnari J, Paryani F, Boyett D, Save A, Humala N, Khan F, Li J, Lu H, Sun Y, Tuddenham J, Goldberg A, Dovas A, Banu M, Sudhakar T, Bush E, Lassman A, McKhann G, Gill B, Youngerman B, Sisti M, Bruce J, Sims P, Menon V, and Canoll P. Re-convolving the compositional landscape of primary and recurrent glioblastoma reveals prognostic and targetable tissue states. Nat Commun. 2023 May 4;14(1):2586. doi: 10.1038/s41467-023-38186-1. PMID: 37142563; PMCID: PMC10160047.

Banu M, Dovas A, Argenziano M, Zhao W, Grajal H, Higgins D, Sperring C, Pereira B, Ye L, Mahajan A, Humala N, Furnari J, Upadhyayula P, Zandkarimi F, Nguyen T, Wu P, Hai L, Karan C, Razavilar A, Siegelin M, Kitajewski J, Bruce J, Stockwell B, Sims P, and Canoll P. A cell state specific metabolic vulnerability to GPX4-dependent ferroptosis in glioblastoma. bioRxiv [Preprint]. 2023 Feb 23:2023.02.22.529581. doi: 10.1101/2023.02.22.529581. PMID: 36865302; PMCID: PMC9980114.

Upadhyayula P, Higgins D, Mela A, Banu M, Dovas A, Zandkarimi F, Patel P, Mahajan A, Humala N, Nguyen T, Chaudhary K, Liao L, Argenziano M, Sudhakar T, Sperring C, Shapiro B, Ahmed E, Kinslow C, Ye L, Siegelin M, Cheng S, Soni R, Bruce J, Stockwell B, and Canoll, P. Dietary restriction of cysteine and methionine sensitizes gliomas to ferroptosis and induces alterations in energetic metabolism. Nature Communications, 2023 14(1), 1187 https://doi.org/10.1038/s41467-023-36630-w

Wang H, Argenziano M, Yoon H, Boyett D, Save A, Petridis P, Savage W, Jackson P, Hawkins-Daarud A, Tran N, Hu L, Al Dalahmah O, Bruce J, Grinband J, Swanson K, Canoll P, and Li J. Biologically-informed deep neural networks provide quantitative assessment of intratumoral heterogeneity in post-treatment glioblastoma. bioRxiv 2022.12.20.521086; DOI: https://doi.org/10.1101/2022.12.20.521086 (in review at PNAS)

Sperring C, Argenziano M, Savage W, Teasley D, Upadhyayula P, Winans N, Canoll P, and Bruce J. Convection-Enhanced Delivery Of Immunomodulatory Therapy For High-Grade Glioma, Neuro-Oncology Advances, 2023;, vdad044, https://doi.org/10.1093/noajnl/vdad044

Liu Z, Mela A, Furnari J, Argenziano M, Kotidis C, Sperring C, Humala N, Bruce J, Canoll P, and Sims P. Single-Cell Analysis of 5-ALA Intraoperative Labeling Specificity for Glioblastoma, bioRxiv 2022.12.17.520870; doi: https://doi.org/10.1101/2022.12.17.520870