Dr. Michael Sisti's Patient Lives Olympic Dream
It has been a few years since we shared the inspiring story of the olympian Josephine Pucci.  And now, with the 2018 Winter Olympics underway in South Korea, we thought, what better time to put her story front and center once again.
Before we do, we'd like to give you an update; we happen to know a lot about what Josephine is up to because she has spent the last two and a half  years working with us in our Cerebrovascular Research Laboratory. 
Today, this bright young woman is the Clinical Research Coordinator of the lab, and she says this job has made her more committed than ever to pursuing a medical degree.  When our story of her ended last, she was returning to Harvard with thoughts of a future in medicine; neuroscience in particular. 
Well, she graduated from Harvard in the spring of 2015, then came to work here, and she has recently been accepted into medical school for the fall. In her years working here in the lab, we are all very fortunate to have gotten to know this exceptionally smart and delightful person. 
Josephine says she is enjoying watching this year's winter olympics. It brings back a lot of memories, but she isn't sad about not being there. She is on her next olympic-sized adventure with a bright future in medicine. 
Enjoy Josephine's story below:
---
Josephine Pucci had Olympic-sized dreams. She had been attending national ice hockey camps for years. And for two years, she had been playing on the US National Ice Hockey Team.
Then one day in 2012, Pucci's dreams were dealt a blow. She was playing with Team USA against Team Canada when she received a forceful blindside hit. Injured and disoriented, running into other players, she somehow made it the short distance to the bench.
She had a severe concussion.
Two weeks later, she moved into her dorm at Harvard, excited to begin another year of classes. But she found that her concussion symptoms weren't improving. She couldn't concentrate in class, her head throbbed constantly, and she was extremely sensitive to light and noise.
Working with doctors in Boston, she made the difficult decision to sit out the hockey season and even withdraw from school for a year. That fall and winter, she was almost bedridden. "Even going for a walk was difficult for me to do," she remembers. "I just tried to rest and not trigger my symptoms."
Pucci felt increasingly worried. Making the Olympic team had always been her dream. But as the weeks and months ticked away, her teammates played and prepared for the Olympic tryouts while Pucci was off the ice completely.
In her worry, she turned to trusted mentor Dr. Ben Stein. Pucci had known Dr. Stein for years, as he had been her juniors-league ice hockey coach. But he is also the former head of the neurosurgery department at Columbia University Medical Center/NewYork-Presbyterian Hospital. Dr. Stein listened to Pucci's story, and recommended that she meet with Dr. Michael Sisti.
Pucci met with Dr. Sisti in January 2013. The meeting was a relief to the young athlete. "Dr. Sisti was very calming. He helped me stay in the present, not to worry about hockey, just focus on getting better. He kept me in the now." He studied her case and made several recommendations.
For one, Pucci took an eight-hour test that showed which areas of her brain needed improvement. She began therapy based on the results of the test. She also had several brain scans along the way.
The recovery process was difficult. "It was so important to stay disciplined and not do anything that triggered symptoms. It was the hardest thing I ever had to do. I had to stay away from social situations, TV or reading to avoid the symptoms. I lost hockey and school and my friends…my family was the only consistency, and they were my backbone."
Gradually, Pucci was able to ease back into physical activity. She began working out and preparing for tryouts. As she got stronger, the doctors helped her weigh the risks involved with returning to play. "Ultimately it was my decision," says Pucci, "and I decided to go back. When I finally got to tryouts, I felt 100% ready and confident."
In June 2013, the US named 25 players to its roster. Pucci was among them. In September 2013, the team started training full time, and in February 2014 they flew to Russia for the winter Olympics.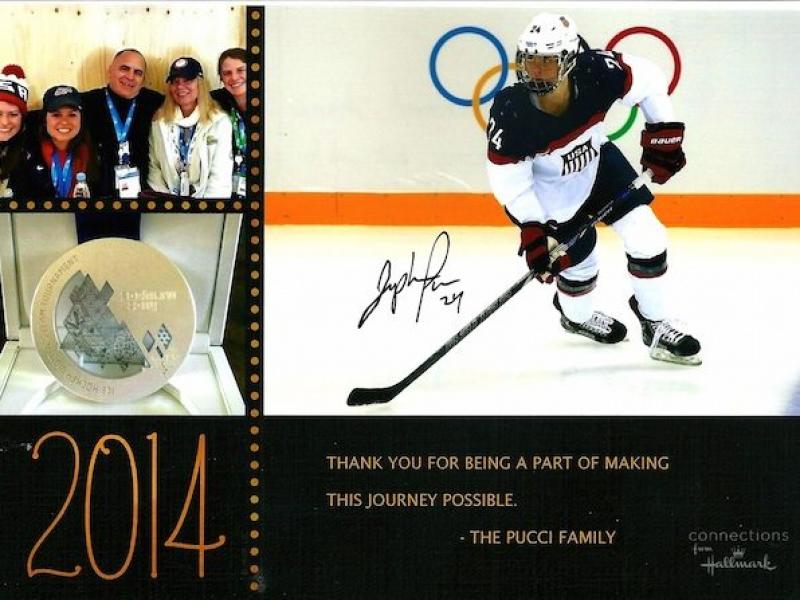 The team performed extremely well in Sochi. And Pucci, a defenseman, helped the women's ice hockey team bring home the silver medal. The experience was everything she had hoped for, and more: "I felt great the whole time. It feels good to be healthy, and I don't take that for granted."
Just a year later, Pucci was finishing her classes at Harvard, majoring in psychology, with a focus on neuroscience: her experience with concussions piqued her curiosity about the brain. She completed internships at brain research institutes in Atlanta and Boston. She also started taking pre-med classes as part of her major. "We'll see what happens after college," she says.
One thing she knows for sure is how appreciative she feels to Dr. Sisti. Asked what she would like to tell him most, Pucci says, "Thank you for the support, and for helping me get the treatment that really helped me take the steps to recovery. I am just so thankful that I got to live out my dream and that he was a part of that. I'll forever be thankful."