From Spinal Surgery to a Triathlon: Rachel's Story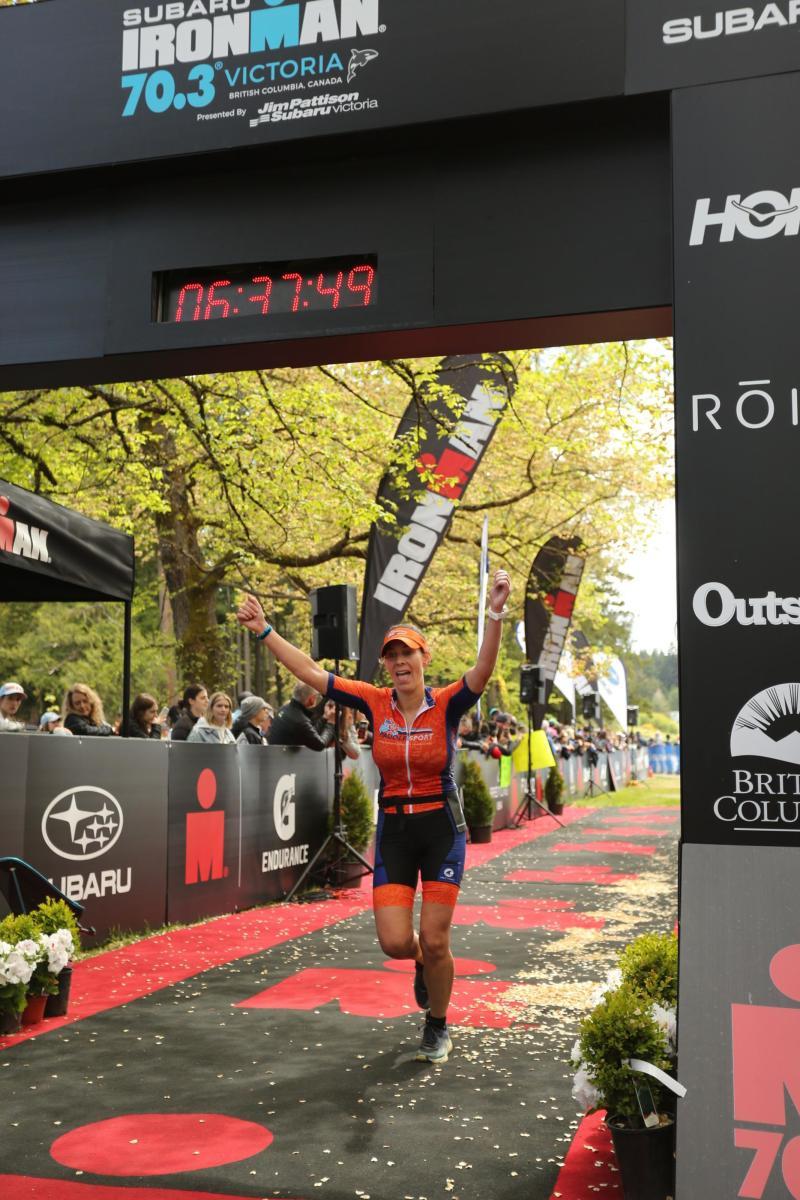 It was late in 2020 when Rachel Scheller's training schedule for a half Ironman Triathlon hit a snag. With certain movements, like running, jumping, or squats, she started getting pains in her hip and lower back—and falling down icy steps on New Year's Eve Day didn't help.
"From there, things just got worse," says Scheller, a marketing professional for GlaxoSmithKline from Kirkland, WA. "I tried physical therapy, acupuncture, seeing a chiropractor—anything and everything to get relief."
She kept up her training, despite the pain. But if she tried a longer run, she'd experience more discomfort later in the day. Some nights she had to get out of bed and walk around to alleviate the pain.
By spring 2021, the pain was so bad that she went to an orthopedist. Although an x-ray looked fine, Scheller wanted answers before the half Ironman in a couple of weeks, so she asked for more testing. Her orthopedist ordered an MRI of her lower back and right hip.
The Friday before the race, her doctor called to say the MRI found a mass on her T12 vertebrae pushing against the right side of her spinal cord—although he doubted it was the reason for her pain. He recommended that she see a local neurosurgeon.
"He said I could still do the race, so I went," Scheller says. "I got through the swim, I got through the bike, and I started the run, but I was in so much pain I couldn't finish. As soon as I got home, I went to the neurosurgeon in Kirkland."
The specialist told Scheller her tumor was a benign schwannoma and unlikely to be causing her pain. But he recommended removing it in a "simple procedure" that would include fusing her spine, which involves joining multiple vertebrae.
Researching the Right Care
Scheller's family urged her to get a second opinion. Her boyfriend's mother found Paul C. McCormick, MD, co-surgeon-in-chief of NYP Och Spine Hospital and Director of the Spine Hospital at Columbia University Irving Medical Center. After watching Dr. McCormick's online surgery videos, Scheller scheduled a telehealth appointment.
"The first thing that reassured me about Dr. McCormick was that he thought the tumor was causing my pain," she says. "Plus, he had done this type of surgery many times, and I liked his bedside manner—even virtually."
Dr. McCormick agreed that the mass should be removed, but he felt he could offer another approach.
"Experience matters, and the value of our institution is that we have so many experienced people," he says. He explains that Scheller's tumor was in the lowest part of the spinal cord, where many nerves are crowded together, making it a delicate surgical area. "Having done this for 25 years, I've been down all the streets and seen all the potholes. All that experience working under a microscope in these narrow corridors helps you be prepared and precise." Based on the tumor's location and the techniques developed at NYP, Dr. McCormick felt confident his team could take a less invasive, microsurgical approach, which means lower risk and better recovery.
Scheller began planning her trip to New York City for the procedure, which was scheduled for June 16. She met Dr. McCormick in person the day before surgery and was again reassured by his confidence. "He was very straightforward and honest. I could tell he knew what he was doing."
From Microsurgery to a Half Ironman
The six-and-a-half-hour procedure was a delicate operation that began with making an incision and shaving a piece of bone to access the spine. Then, under a microscope, the surgical team moved the nerves from the tumor, shrank the tumor from the inside, and removed the rest of the mass.
"The procedure has some risk because the nerves we're manipulating go to the legs, bowel, and bladder," Dr. McCormick says. So when Scheller woke up in the recovery room, her ability to wiggle her toes was a good early sign.
As she recovered, she felt the personal attention she received in the hospital was worth crossing the country for. "The nurses, staff, and doctors who came in were just so nice and attentive. The care I had was the most amazing I've ever had anywhere."
After a week in the hospital, Scheller continued her recovery at an Airbnb in New York and then with family in Boston before heading back to the West Coast. Once home, she encountered some challenges, including a high fever, and was grateful to Dr. McCormick and his staff for being so helpful virtually.
Although it took eight weeks until Scheller felt she could "do anything," at the 10-week mark, she started riding her bike, running, and swimming. In November 2021, she ran a half marathon.
Dr. McCormick couldn't be happier with her progress: "Due to our experience, we felt that we could remove her tumor in a way that would preserve her function and get her back to her lifestyle. Now she's out there proving us right. We're extremely pleased that she's doing so well."
When she thinks back to the first surgeon who'd recommended fusing her spine—and how that may have impacted her activity level—Scheller knows she found the right care for her.
"I finally competed in the half Ironman in May 2022, and I did the whole thing," she says. "I'd been training for so long, and it was fantastic to cross the finish line without pain."