Preparing For Your Surgery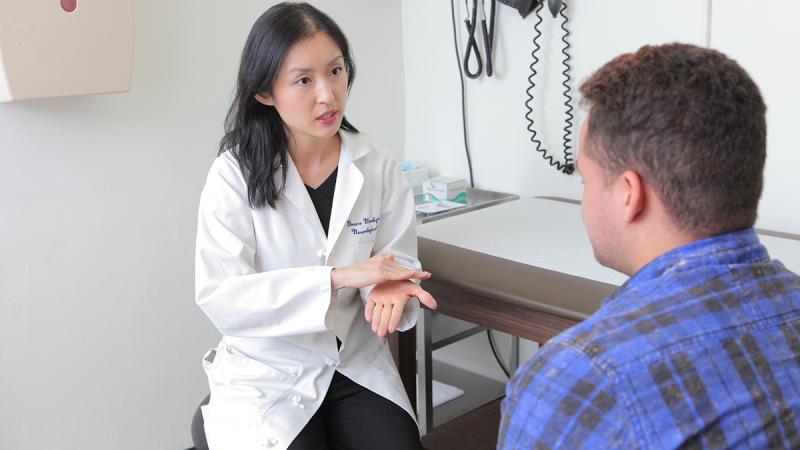 Please note: These instructions are meant to serve as a general guide for most patients coming in for neurosurgery procedures, and sometimes there will be exceptions and changes. Please consult with your physician and their team for the process specific to your surgery.
Before Surgery
At the time your surgery is scheduled, you will have the opportunity to sit down with one of our nurses or nurse practitioners to discuss your process before and after surgery. You may ask any questions regarding your care at this time.
A week (7 days) prior to your surgery, you will need to stop all non-steroidal anti-inflammatory medications (NSAIDS) such as Advil, Aleve, Ibuprofen, etc. If you have questions or concerns regarding your medication, please call your physician's nurse.
The day before your surgery, you will be contacted by your physician's nurse confirming your surgery time.
Do not eat or drink anything (including water) after midnight the night before your surgery. You must arrive at the hospital with an empty stomach.
Day of Surgery
These directions are for surgeries at Columbia University Irving Medical Center/NewYork-Presbyterian Hospital.
On the day of your surgery, please arrive at Columbia University Irving Medical Center/NewYork-Presbyterian Hospital and enter through the Vivian and Seymour Milstein Heart Center, located at 173 Fort Washington Avenue, New York, NY. The entrance is to the left of the main Milstein Hospital entrance.
Parking is a scarce resource around CUIMC. Valet parking is available in front of the main entrance of Milstein Hospital at 177 Fort Washington Avenue. Additionally, the hospital's parking garage is located at 115 Fort Washington Avenue, between 164th and 165th streets, and is managed by the NYP Parking Office. The garage is open 24 hours a day, 7 days a week. Forms of payment accepted at the hospital's parking garage include cash and debit/credit card. For more information on parking at the hospital, please visit the NYP Directions and Parking.
Upon entering, you will check-in at the security desk in the lobby, and the security guard will direct you to the elevators to take you to the preoperative registration desk on the 3rd floor of the Heart Center.
Take the Heart Center elevators to the 3rd floor, and you will find the registration desk where you will register for your surgery and fill out any necessary paperwork.
After your paperwork is filled out, you will be directed to the waiting area.
A nurse will come out to greet you in the registration waiting area and take you into the preoperative area to prep you for your surgery. Family members may accompany you into the preoperative area.
In the preoperative area, your vital signs will be taken and you will change into a gown and place your personal belongings in a bag provided by the hospital. You will be fully prepped for surgery in this location and then taken by a nurse to the operating room on the 4th floor.
Your surgery time will depend on your individual case, but your surgeon and team will do their best to inform both you and your family/visitors of the expected time of completion. You can take comfort in knowing that you are in the hands of highly skilled surgeons during this time.
After your surgery is completed, you will move to the Post-Anesthesia Care Unit or PACU on the 4th floor of Milstein to take time to recover from the anesthesia. You may spend some time in the Neurological Intensive Care Unit located on the 8th floor if it's necessary to monitor you more closely.
When your medical team determines that you are ready to leave either the PACU or the Neurological Intensive Care Unit, you will move to the Neuroscience floor located at 8 Hudson South in the Milstein Hospital Building.
While on the Neuroscience floor, you will be monitored by your medical team until they determine that you can be discharged from the hospital to continue to recover at home.
After you are discharged from the hospital, your surgeon and their team will give you specific instructions about postoperative care. Please see our follow-up guide for information about what to expect for your follow-up visits.
After Surgery
Depending on the type of operation you are having, you may be asked to stay in the hospital for a period of time.
Your family and friends may visit the patient during regular visiting hours. Visit NewYork-Presbyterian Hospital's Patient's Visiting Hours.
For more information on the anticipated length of stay after your operation, please discuss with your neurosurgeon or nurse.
Follow-Up Appointments
After your surgery, it may be necessary to have follow-up appointments with your surgeon to assess your postoperative progress. The timing of your follow-up appointment will depend on the type of surgery you had, so be sure to speak to your surgeon and their team to determine when you should schedule your follow-up.
Please call your neurosurgeon's office to schedule a postoperative visit and update the nurse on how you are doing.
If you have sutures/staples, you should be seen 9 to 12 days after surgery; otherwise, you will be seen 4 to 6 weeks after surgery, unless otherwise instructed by your neurosurgeon.
It may be necessary to have imaging tests done prior to your follow-up visit, so please schedule tests accordingly in order to have images ready by the time of your follow-up appointment.
For your visit, please proceed to your neurosurgeon's office as you did for your initial visit and follow the same check-in procedure. At the time of your visit, your surgeon will evaluate your progress and discuss specific next steps with you.
Post-Surgery Support
We are always here for you. As you continue on your journey to health, there may be questions both complex and simple that arise following your initial post-operative appointments with your neurosurgeon. Our team remains available to you no matter what stage of recovery you are in, and someone is always able to help. You can reach your neurosurgeon's office directly or speak to your surgeon's dedicated nurse for assistance. Once you are a Columbia Neurosurgery patient, you are always our top priority, even long after you've gone home.
Physical Therapy
Depending on your individual case and needs, your neurosurgeon may recommend a course of physical therapy or additional therapy to aid in your recovery.
At our affiliated Och Spine Hospital, we pride ourselves in providing the highest quality comprehensive care for our patients throughout the entire course of treatment. To this end, we offer physical therapy with our nationally recognized physical therapists. Our dedication to excellence is reflected in our therapists' leadership roles as educators, researchers, and advanced clinicians.
When you embark on a course of physical therapy at the Och Spine Hospital, you can anticipate one-on-one individualized treatment from our manually trained therapists. We will utilize all available modalities to control your pain, while we educate you on how to modify your activities to minimize painful symptoms.
Your neurosurgeon will discuss the potential need for physical therapy if it is necessary, depending on your individual needs.